Searching for solutions to improve effectiveness of biodiversity conservation and increase human well-being in and around protected areas.
Biodiversity is declining worldwide at a rapid pace. For example, the Living Planet Index estimated a 68% decline in species abundance between 1970 and 2016. To counteract this trend, protected areas are considered core conservation instruments. Until 2020, almost 17% of the Earth´s terrestrial surface had been designated as protected areas. Despite this trend, biodiversity loss continued. In 2020 the International Convention on Biological Diversity targeted 30% of the world's landmass be designated as protected areas by 2030. However, this goes along with manifold burdens on the local people living in and around the protected areas, for example through the exclusion from resources.
The "Wildlife, Values, Justice" project investigates these global problems through empirical research of case studies in Tanzania and Zambia. Here, more than a third of the landmass is designated as protected areas, making the countries important locations for biodiversity conservation. With the expected drastic population growth of the coming decades, understanding and resolving challenges to biodiversity conservation and human well-being is of crucial importance.
The project explores the sustainability of these protected areas through assessing i) wildlife numbers over space and time, ii) the relationship between conservation arrangements and people´s values, and iii) people´s perceptions of justice. These insights may shed light on the capacity of protected areas to respond resiliently to current and future global pressures on land.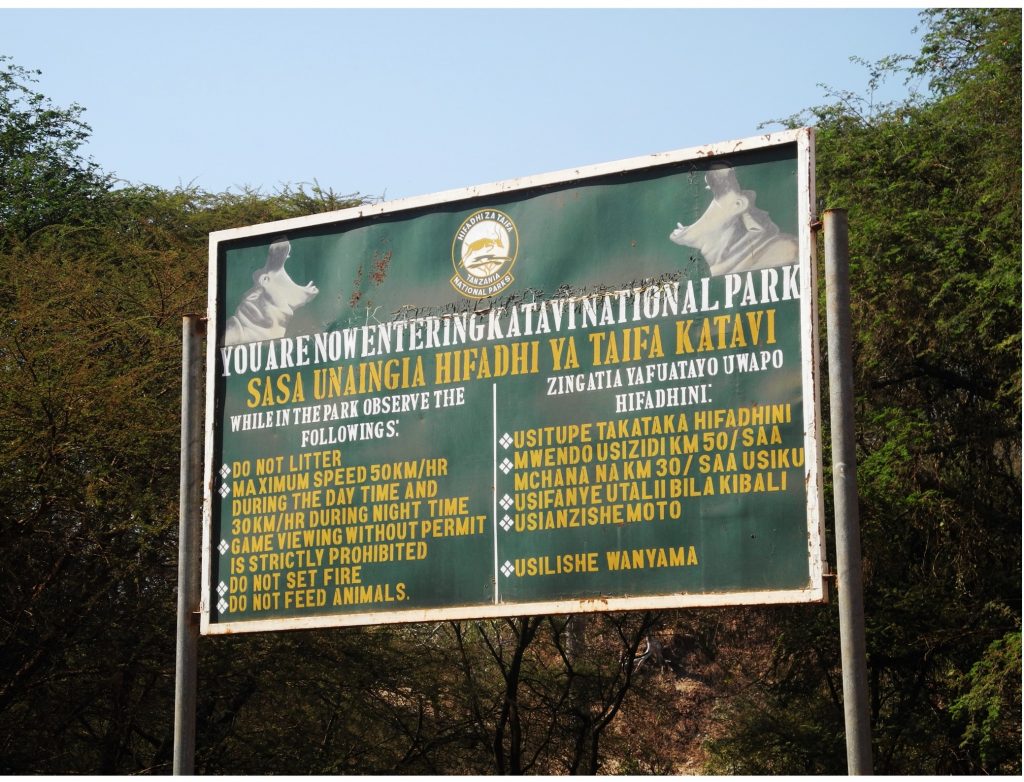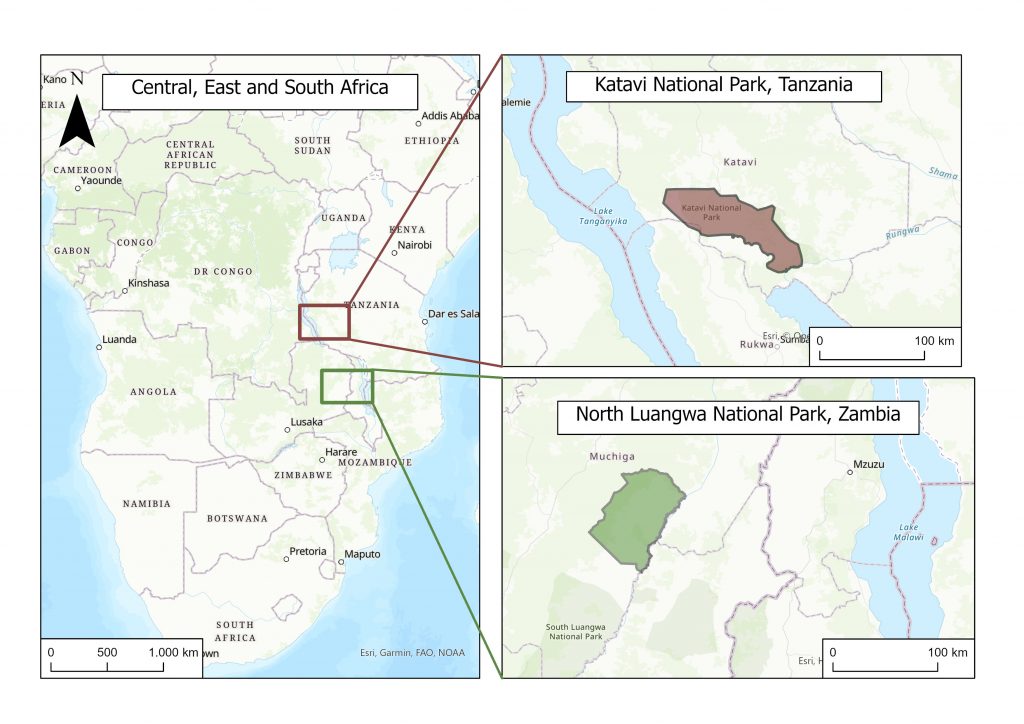 Katavi National Park is Tanzania's third-largest national park. Large areas of the park are covered by brachystegia woodland. It is further characterized by flood plains and dense waterways. Due to these conditions, the national park boasts an estimated population of 4,000 elephants, several herds of buffalo, highly varied birdlife as well as Tanzania's densest concentrations of hippos and crocodiles. Find more information here.
North Luangwa National Park is located in the oldest section of the African Rift Valley. It is characterized by dramatic seasonal variations and a dynamic river system made up of perennial and seasonal rivers. Furthermore, it boasts lush vegetations of acacia and brachystegia woodlands, open grasslands and wide floodplains. The national park is home to some unusual mammals, including sable antelope, blue duiker and blue monkeys, as well as Cookson's wildebeest, one of Luangwa Valley's endemic subspecies. Find more information here.
Through the use of unmanned aerial vehicles (drones) and a novel approach to cover wide flight ranges, we explore and refine the accuracy and efficiency of aerial-based mammal counts.
With the collected wildlife monitoring data we seek to evaluate the habitat use and population densities in different types of protected areas. We then link these findings to land use and land-use changes as well as to social-ecological data.
This allows us to evaluate the ecological effectiveness of the two protected areas and to disentangle to which different contextual factors it is related.
We explore the relationship between the human value systems and different forms of human-nature interactions in protected areas.
Which different types of values do local people and decision-makers assign to nature? How do these underlying values influence the attitude towards nature conservation through area-based approaches? How does this attitude influence the interactions between people and nature?
The project examines in how far local communities find their values reflected in conservation measures and which potential for harmonizing human-nature interactions the inclusion of these values may hold.
To find out how far protected areas cause or mitigate environmental injustices, we consider the triple justice dimensions of recognition, distribution, and procedure, but also shed light on power asymmetries and the consideration of people´s capabilities.
Whose ideologies, values, knowledge, and traditions manifest themselves in the decision-making on protected area governance and management? How equitably are the benefits from protected areas distributed? Who is included in decision-making processes and how? How does recognizing the diversity and plurality of values, worldviews and knowledge influence the perception of and the attitude towards nature conservation in communities?
"Wildlife, Values, Justice" contains five work packages to facilitate transdisciplinary engagement, in-depth ecological and social research as well as interdisciplinary integration.  
The first work package serves as the project preparation phase to identify the case study areas. The second and the third work packages entail social and ecological assessments, which will be conducted during the core research phase. In the final project phase, integration of the findings will be achieved in work package four through a dynamic model of the social-ecological systems. Throughout the project, work package five facilitates inter-and transdisciplinary activities that accompany the research process and serves as a continuous feedback platform.
In this work package, we screen the ecological, social, and political conditions and surrounding land use intensities in a selection of Zambian and Tanzanian protected areas and adjacent game reserves and/ or wildlife management areas. Based on this information, we select one case study system per country, and we delineate research units within each study system. These research units are defined by villages and their scale of interaction with the protected areas. This work package relies on the use of satellite imagery as well as scientific and grey literature and entails contacting local authorities and local people.
work package 2 - social assessments
In the second work package, we seek to understand the worldviews and motivation of local people and decision-makers and explore their perception of and their attitude towards conservation arrangements in the study area. In particular, we investigate which elements of nature and conservation people value and in how far conservation arrangements cater for recognition, procedural and distributive justice. Based on these settings, we assess which arrangements may require further attention in conservation planning to enhance the sustainability of conservation to integrate both human needs and ecological requirements.
work package 3 - ecological assessments
In this work package, we focus on the ecological state, natural resources and wildlife trends in different protected areas. The content is split into three areas of investigation:
1. Large mammals surveys are advanced using remotely piloted aerial vehicles (drones) for monitoring.
2. Findings from mammal surveys are complemented by surveys of butterflies as a representative species for invertebrates.
3. A landscape assessment calculates and evaluates the connectivity to other ecosystems in the wider surrounding landscape, which is an important feature for mammals to maintain viable population sizes.
Based on these three studies we assess the status quo of the ecological systems in and around the two National Parks and adjacent protected areas, such as Game Management Areas or Forest Reserves, and connect these findings to landscape contexts and land use changes.
work package 4 - integration
This integrative work package represents the heart of this project. Few studies have comprehensively investigated protected areas by integrating social and ecological research to better understand the dynamics in these social-ecological systems. The integration takes part through two major steps: Firstly, we evaluate the sustainability of the protected areas based on their effectiveness and acceptability. Secondly, we develop an agent-based model containing the major driving forces of the system and their interactions.
We designed this project to integrate findings from the ecological and the social surveys throughout, but in particular in this work package near the end of the project. We aim to carefully consider the gathered sets of data from the social and ecological assessments regarding their scales and methods to allow for integration in this step.
work package 5 - inter and transdisciplinarity
This work package is dedicated to the inter- & transdisciplinarity of the project. As researchers from different scientific disciplines, we have a lot to learn from the other disciplines, but also from the local people and the decision-makers in the study areas. Likewise, we try to transfer knowledge between researchers as well as between researchers and people without training in the sciences. We therefore seek contact with local community members, visitors and investors, decision-makers, conservation institutions, and other scientists. Together, we seek to co-produce insights on the transformation potential of protected areas as sustainable social-ecological systems.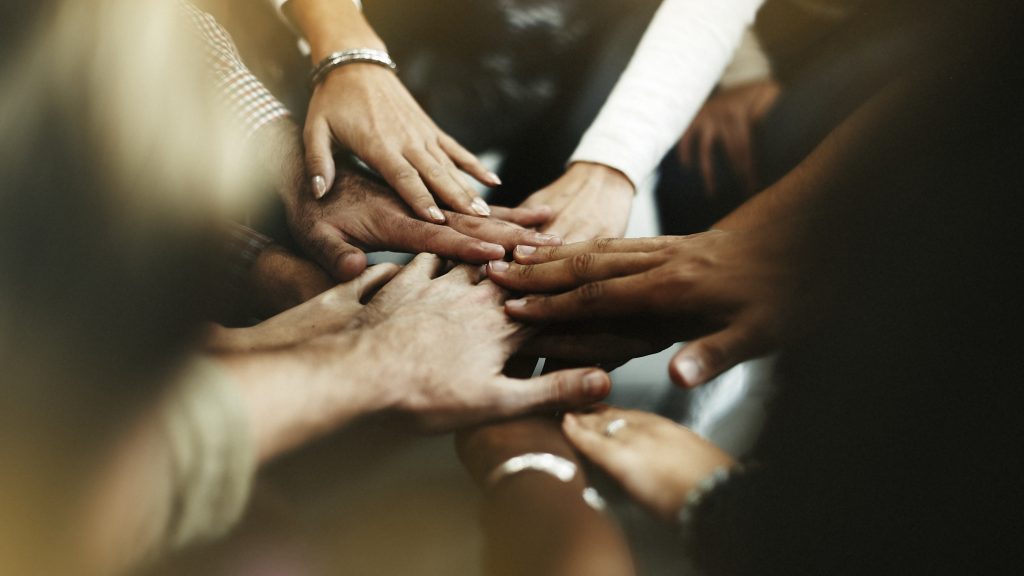 read our publications or
visit our project blog